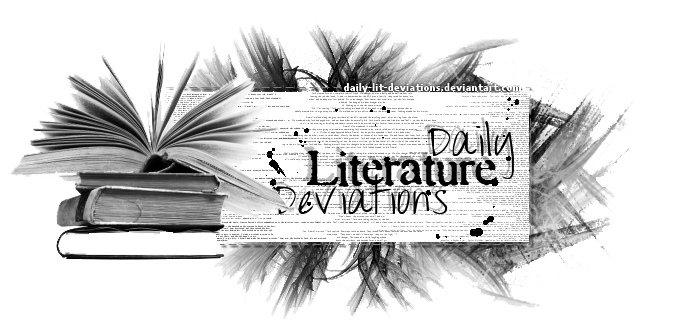 Guidelines
|
How to Suggest a DLD
|
Group Administrators
|
Affiliation
|
Chatroom
|
Current Staff Openings
Daily Lit Deviations for May 24th, 2013
We are proud to feature today's Daily Literature Deviations!

You can show your support by

ing this News Article.
Please comment and

the features and congratulate the artists!

For all of the featured artists:
If you receive a DD for one
of your pieces featured by DLD please note `LiliWrites.
We will include you and your piece in a special recognition news article.

Poetry
Suggested by: *xlntwtch
Featured by: =DrippingWords

Insert Title _1We, the petty,
we, the bourgeois,
poring over mirrors of reflected, collected verse,
only we could drown
in the shallow pools of our own desires.
Self-worth and efficacy distort, distend,
dilate.
Our longing sighs inflate
gauzy bladders, diaphanous,
and we fancy them substantial because they are large -
(We say much the same of our philanthropy.)
- seeking no synonyms,
though "bloated" comes to mind.

A pseudonym can shelter
the sodden intellect, emaciated,
denigrated by false modesties.
How quaint.
How deep, the brainy poet
who breathes his own despite
behind alabaster walls,
sherry perched atop whalebone fingers,
slosh
"Insert Title_1"
by =
QuiEstInLiteris
A hilarious poem that jabs you in the gut
(in a good way) every time you read it over.
Suggested by: ~Lacewinged-Beauty
Featured by: =DrippingWords

fast-forward through the goodbyesthis is the beginning of the end
"i know you," he says.
and he looks defeated, he looks sad, he looks like
he's a boy who may one day realize how much
he cares for you, so you cut him off and say,
"minus all the secrets i don't tell anyone."
"well, yeah, minus those."
"then you don't know me at all."

and then you tell him,
i love you. but you don't use those words
because those are taboo. are jinxed.
are knock on wood three times fast.
instead you press him in a hug and say,
i'm sorry, knowing he won't understand
that this is the first time you ever cared for some
"fast forward through the goodbyes"
by ~
MisfitableGrae
A beautiful poem filled with images that
seem to grieve even after the words have faded.
Prose
Featured by *doodlerTM

Glendor the Amazing Acrobat I used to be great. I used to be amazing. Then that blasted spider made her blasted web right in my face. I lost a few legs that day. I couldn't do anything anymore. So, I got a fake beard and a wheelchair, I built a house out of sticks and set up a story telling stand so people could hear about how dreams are crushed.
I used to be great
I used to be amazing.
Now I'm just a normal inchworm.
I'm not an acrobat anymore.

Lots of other inchworms come to here my story. They come, interested and exited. Then, in the middle of my story they interrupt and ask questions like "is this reall
Glendor the Amazing Acrobat
by *
The-Waffleosaurus
It's not every day that you read a story
about an inchworm - and this story is inspiring
and hilarious at the same time.
Suggested by: *SCFrankles
Featured by: =SilverInkblot

Garden VarietyA hex can be a slick and deadly weapon in the hands of an experienced witch. Like the carefully wielded surgeon's blade it finds its mark and exacts a terrible vengeance on the cursed individual; such horrors that are mentioned only in frightened whispers or gloating asides – depending on the degree of likeability of the unfortunate soul of course.
Not all curses are hexes but all hexes are curses and are not reversible. They must be either broken or redirected by the witch who cast the spell in the first place. These are the type of curses that elicit words like, 'please God let me die!'
Novices should not attempt hexes. I repeat novices should not attempt hexes. It is powerful magic made dark by the intent of the witch and as such comes with a hefty price. There's a reason why most witches look the way they do. Dark magic takes a terrible toll on the body and one must be willing to do unspeakable things in order to allay its effects and if not performed properly, th
Garden Variety
by *
leyghan
Suggester: "Hexes, humour, horror
and diabolical transubstantiation."
Featured by *xlntwtch

Digging GravelVen stared down the pile of gravel before him, half a ton sitting in the dusky evening-afternoon and all of it needing to be shovelled up and moved. By hand.
"Fuck." he muttered as he bent his back to his task again, sore muscles protesting as he did so. Beside him, moving a smaller amount of gravel and moaning considerably louder, was Sarah.
"I'm a maid!" She groused. "I should not be doing this." She made a small and relatively dainty 'augh' as she lifted her spade to slide the next load of gravel into the waiting box.
"Yeah, and I work with the horses. I shouldn't be doing this either. But you know that the family doesn't have that many wo
Digging Gravel
by ~
Humbug-liqourish
Subtle humor leads readers on a romp
through a short story to a surprising end.
For more information
, including how to suggest a Deviation
to be featured, please visit us at =
DailyLitDeviations
.
Thanks so much for supporting the lit community and this project!
~ The =
DailyLitDeviations
Team ~
Prepared by: =DrippingWords